How to include a Category in a WordPress URL
Hi. Today I'm going to show you how to include a category in a WordPress URL.
1. Hover over "Settings" in the sidebar and click on "Permalinks".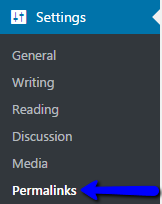 2. In the Custom Settings section, add /%category%/%postname%/ to the URL field next to "Custom Structure" (make sure the "Custom Structure" option is selected).

3. Click on "Save Changes" and you should now start including a category in a WordPress URL.

4. Put a post under a category, then click "Update". Your URL should now look like this:

Thank you for taking this tutorial and I'll see you guys later.