NOTE: the last image in this tutorial may differ from the text.
Hello. Today I'm going to show you how to change the category base prefix in WordPress. This is gonna be a short and simple one.
1. In the admin dashboard, hover over "Settings" and in the drop-down menu click "Permalinks".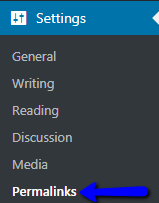 2. Scroll down to the "Optimal" section and in "Category base" enter the prefix you want to use.

3. Click "Save Changes". Your prefix should now be working.

Thank you for taking this tutorial and I'll see you guys later.